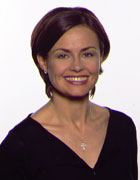 UNOFFICIAL BIOGRAPHY
One of 2 fem-nazis in show. Always a handful for our main man Stan . can be relied on to take opposite side to stan whenever she can . Is now in middle of ongoing arguement with Pru MacSween . Has taken to storming off set in a hissy fit now when in arguements with Stan. I think it is fair to say that hubby has his hands full with Lisa. Lucky he is an ex rugby player. Will need to be big and tough to handle this lil spitfire

OFFICIAL BIOGRAPHY
In 1981, at the age of 21, Lisa became editor of Dolly, the youngest ever editor of an Australian national magazine, pushing the circulation from 120,000 to 280,000.
In 1985 she took over the helm of Cleo, rejigging the direction of the magazine. Lisa dropped the famous male centrefold, began the list of Australia's 50 Most Eligible Bachelors and shot the circulation up from 220,000 to 350,000.
Lisa was appointed International Editor in Chief of Cleo's international editions in New Zealand, Singapore, Malaysia and Thailand and consultant to Australian Consolidated Press Magazines with special interest in Cleo. Lisa returned in November 1997 to edit theCleo 25th birthday issue and continues to work as a consultant to the magazine several
days a month.
She's been a regular on the afternoon drivetime show on Sydney's 2WS FM with Doug Mulray and a frequent guest on TV talk and current affairs shows including Midday, Today, A Current Affair and Today Tonight. In the early 80's she was a panellist on Beauty and the Beast with Clive Robertson.
Lisa regards a two month stint working with legendary American feminist, Gloria Steinem on Steinem's MS magazine as a career high point together with interviewing 90s feminists, Susan Faludi and Naomi Wolfe.
Married in September 1992 to journalist and former Wallaby, Peter FitzSimons, the couple have three young children. Two boys, aged five and three, and a daughter, just 14 months.