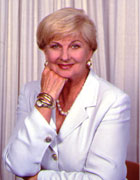 UNOFFICIAL BIOGRAPHY
Maureen is an ex Miss Australia. She won sometime just have federation. Is now the Mother Teresa of Beauty and the Beast . Is very much a grandmother type nowadays. Prim and proper and old fashioned advice . Maybe not the beauty you would turn to for advice on sexual matters.
OFFICIAL BIOGRAPHY
Maureen began her modelling career at age 17 and went on to become Miss Australia.
As the face of David Jones department stores for 16 years Maureen compered countless fashion parades as well as becoming David Jones' TV, radio, press and advertising spokesperson.
From 1978 to 1989 Maureen was the host of Channel Ten's Good Morning Sydney during which time she recorded more than 3000 shows. Among those she interviewed were Sir David Attenborough, Leslie Caron, Sir Robert Helpmann and George Hamilton.
Married for 45 years to lawyer, Pat Delany, Maureen is a devoted wife and proud mother of four sons. Patrick is manager of Southern Star, which produces TV hits such as Blue Heelers, Water Rats and Murder Call. Next son Michael was a member of the famed Silver Medallist Olympic Mean machine and now works for SOCOG, and son Rowan is a media sales rep and other son, Julian is with the futures market. Known affectionately as "The Matriarch" by her children, Maureen considers her family her greatest production.
Maureen not only works for Breast Cancer Awareness but was patron of the Mater Lives Committee which saved Sydney's Mater Hospital from closure and she continues to be active in hospital fundraising activities.