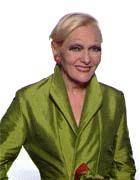 UNOFFICIAL BIOGRAPHY
Seems to have been on tv forever. Starting out in the mid seventies. Was best known for her whiney voice screeching out oooOOO darrrlings often and annoyingly . have to admit she did have a funny side at times . probably the most frightening thing is that really is her voice
OFFICIAL BIOGRAPHY
Jeanne made her television debut on Network Ten's Mike Walsh Show in
September 1974. Invited on as a guest she quickly became a regular, moving with the Walsh Show to Channel Nine, where as part of the team she wowed and won audiences for the next 15 years
She was a guest on the Ray Martin Show and her appearance on the BBC's Michael Parkinson Show so startled London critics she had the London Evening News saying: "What a woman! With her in the house you wouldn't want a TV." Among the overseas guests she has appeared with are Phyllis Diller, George Burns and Danny LaRue.
In 1976 Jeanne won the Gold Logie for most popular television personality and has won two other Logies for her work on the Mike Walsh Show.
She performed at the Royal Command Bicentennial Concert before the
Prince and Princess of Wales. Her stage career took off with Jerry's Girls where American director, John Frost teamed Jeanne with Marcia Hines, Debra Byrne and Judi Connelli. Then came Legends with Kerrie Biddell, Toni Lamond and Nanceye Hayes at the Sydney Opera House.
Marlene, Jeanne's one woman tribute to Marlene Dietrich toured Australia and the US to critical acclaim, followed by More of a Little, currently on tour which is filled with song, chat and hilarity from the inimitable Jeanne.
Jeanne is married to interior decorator, Barrie Little. Their daughter, Katie, is 24 and runs her own graphic arts studio.